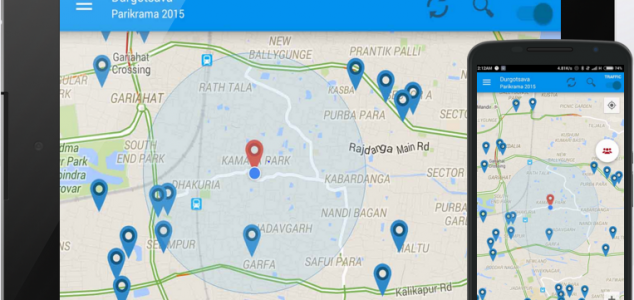 A Mobile APP for Durga Puja Pandal Hopping
Durga Puja Pandal hopping is an art. With thousands of Pujas being held in Kolkata, trying the locate them on the ground  requires intimate knowledge of the cityscape, the ability to negotiate small alleys and information where the iconic and the most unique Durga Puja pandals are located.
DURGOTSAVA 2015  Mobile App makes your pandal hopping experience efficient and  fun.   This is how DURGOTSAVA 2015 can help
Search Puja Pandals : Unable to locate Durga Puja pandal, put in a search and the App will locate the searched Durga Puja on the map.
Explore Nearby Pujas and Amenities: While planning your Puja hopping circuit it is useful to know the eating joints nearby, the location of metro, public conveniences, bus stops, ATMs etc. The App helps you chart your route and also displays the  amenities along the circuit.
Find Friends around you: You can track your friends and check their progress in Pandal hopping with your own. You may play the pandal hopping game where you keep track of who among your friends has has seen the maximum pandals. Keep track of this progress real time.
Get the Trending puja information: All important information like footfalls, traffic restrictions, emergency situations etc during the puja will be intimated to you through the App
Rating and Review : The App will suggest you the best puja near a locality based on the ratings and reviews from the DURGOTSAVA 2015  community.
Mark Visited Option : Keep track of the pandals visited by crossing them on your App .
So if you are trying to search the oldest Durga puja in Kolkata, or the Durga Puja which has the most footfall for the day, or the Pujas which last year got awards, DURGOTSAVA 2015  Mobile App is the handy option .
You may download the DURGOTSAVA 2015  at
Download Link : http://www.durgotsava.com/